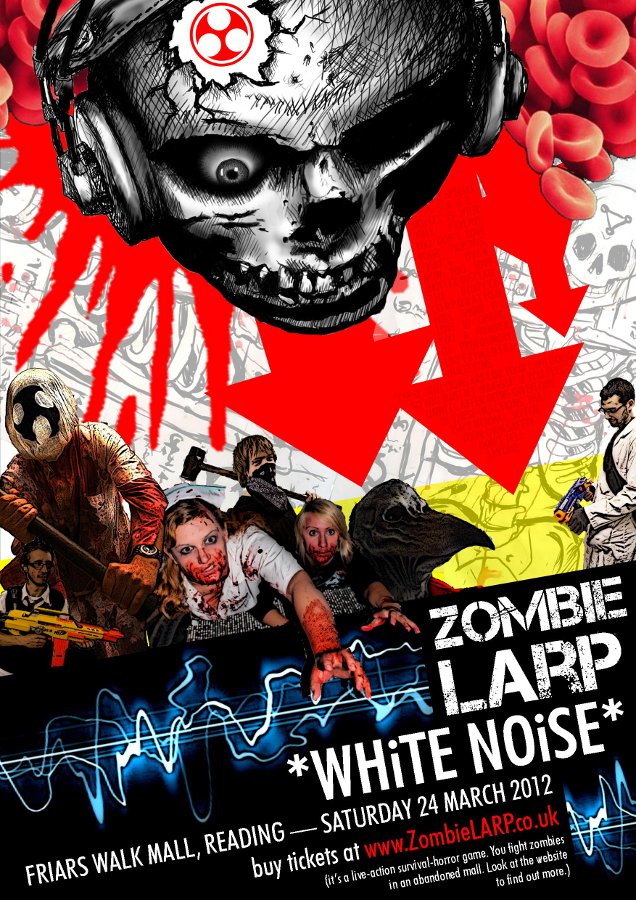 The END OF THE WORLD – scheduled for this year, right? It's in the Bioflex marketing plan – we know 'cos we heard their omega signals. So what's Doctor Baxter up to? Strange place for a laboratory, the heart of a Leech zone. Why hollow out a zombie's ribcage and stuff it with radio transmitters? That's CRAZY, it's a NIGHTMARE. So, time for a bit of interference. TIME TO MAKE THE NOISES STOP!
ZOMBIE LARP: WHITE NOISE
Saturday 24 MARCH 2012 | 10.30am – 9.00pm | Friar's Walk Mall, Reading
To purchase your extremely limited-edition ticket, get over to ZombieShop.co.uk!
At White Noise, you'll take part in four massive, strange and scary games of Zombie LARP. It's an all-action game of survival in a shopping mall filled with zombies. You'll be armed with the very best in NERF firepower and foam-rubber bashing-weapons to smite the undead. You start out as a tasty, tasty human in three of the games, and as a hungry, hungry zombie in the other. Think fast and shoot straight and you might turn out to be the hero. Slow down or slip up and you'll join the shambling wall of corpses.
The venue – Friar's Walk Mall – is a four-storey labyrinth of twisting corridors, pitch-black tunnels, vast storerooms, derelict shops and eerie arcades echoing with the moans of the damned! And it's right next to Reading train station and has a big carpark. So it's ideal for a zombie outbreak.
If you can think of a better way to spend your Saturday – well – you can't! It's impossible! We don't believe you! Of all possible things, ZombieLARP is best! Fighting running screaming horror action!
What are you still doing reading this? Go! Get over to ZombieShop.co.uk and buy a ticket before they're all gone!